It may seem like stating the obvious to advise that food should be at the heart of the festive offer when it comes to persuading people to eat out this Christmas. However, there are plenty of reasons why people pick a specific venue. The location, entertainment and even the quality of the novelties in the Christmas crackers can all have an influence!
When times are tough though, consumers tend to want the essentials to be right. Research carried out by Bidfood and 3Gem has shown that for Christmas 2023, essentials such as price, quality and the range of menu items are more likely to be deal-breakers than 'nice-to-haves' like festive décor, atmosphere and entertainment for consumers, across all age groups.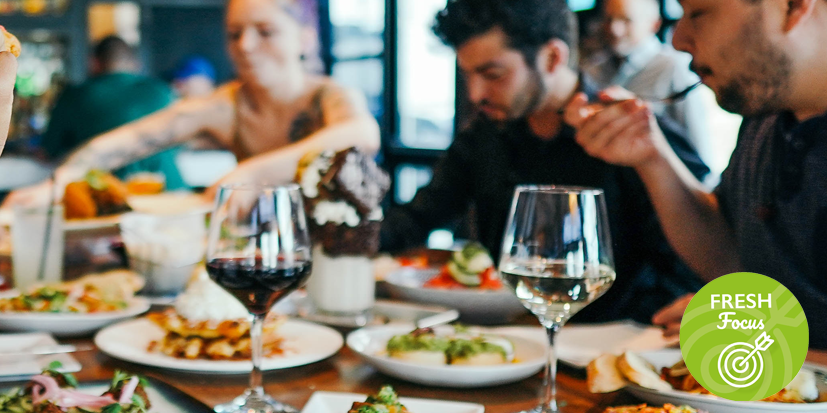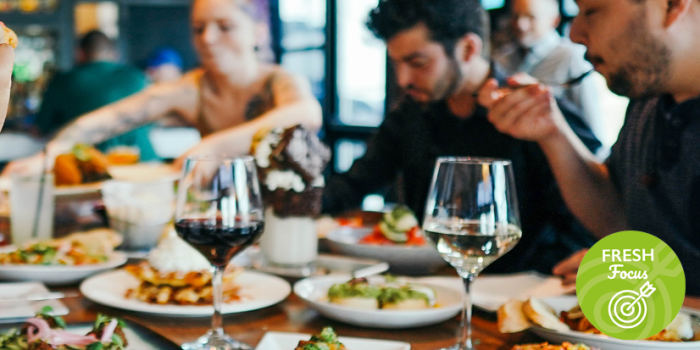 When deciding where to choose for a meal out of home during the festive season this year, the research found that factors most important to diners are:
◆ Price 57%
◆ Quality 47%
◆ Range of menu options 42%
◆ Convenient location 25%
◆ Menu deals and promotions 19%
All of which suggests that this year in particular, getting the food fundamentals right is crucial. The specialists at Direct Seafoods can prepare all the seasonal essentials, from peeled prawns for a classic Prawn Cocktail starter to a side of smoked salmon as the centrepiece of a Christmas meal, to customer specifications. Working with our colleagues at Oliver Kay and Campbell Brothers, we've got the full festive menu covered.
While customers will expect familiar flavours, such as turkey and stuffing, smoked fish and seasonal veg including Brussels sprouts, there's also the opportunity for chefs to put their own twist on things. In fact. 43% of consumer told the survey that they would like to see exclusive menu options, unique to the venue they're eating in.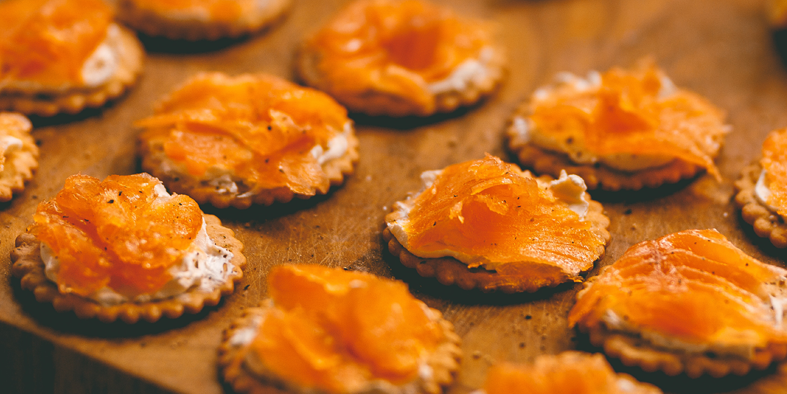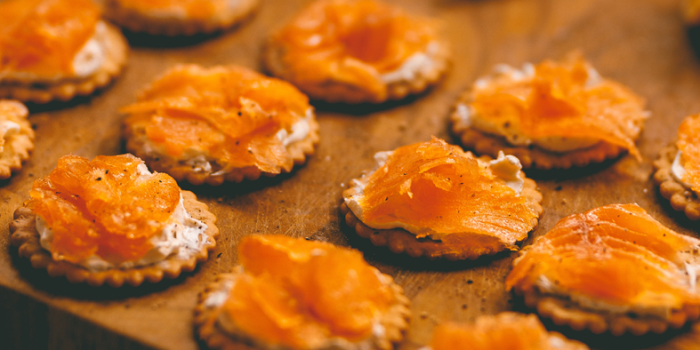 Building in flexibility can also be a real competitive advantage. That might mean offering roast duck or partridge as well as the more familiar turkey; having smoked mackerel or trout as a starter rather than salmon; or serving premium twists on accompaniments, such as a sprout slaw or roasted sweet potatoes.
Roast turkey can be freshened up with different stuffings and sides such as salted caramel carrots, shredded sprouts with chestnuts and bacon or sweet potato roasties Use up any leftover turkey in bar snacks such as turkey and ham pasties and turkey hand raised pies or turkey, cranberry and chestnut pies and pastries. Surplus ham can be used in ham and cheese pin wheels. These will work well as part of a sharing platter with pigs in blankets and Stilton dip, and crudities such as radishes, celery and Romanesco.
Adding fish and seafood dishes can also give a festive menu braider appeal, not just for customer looking to limit their meat intake, but also those who are more willing to try a broader range of species out of home than to prepare and cook fish themselves.
As an alternative to salmon, try smoked ChalkStream® trout as a more sustainable option. A creamy fish pie made with a selection fish and seafood, according to availability, is a comforting treat that will also appeal to groups of customers celebrating within a budget. Adding sizzling prawns or scallops to a main course can add some wow factor and give a better value dish a premium, festive feel.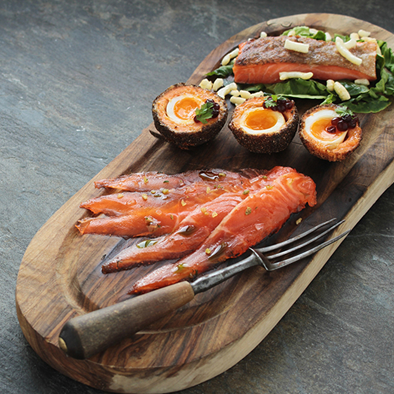 Sprouts are also more versatile than you might think. Roast them with pancetta and chestnuts, or slice them like shredded cabbage and cook with butter and salt and finish with crispy bacon and chestnuts. Use them raw to make a vibrant Christmas coleslaw with red cabbage and carrots which can be served with buttermilk fried turkey.
The Bidfood and 3Gem survey found that 1 in 3 people say eating and drinking out is typically the main way they socialise during the festive season. They often combine this with other festive activity, such as seeing friends and family, and giving gifts in person. With people eager to socialise and spend time with loved ones this year, operators should consider ways to tailor offers, menus and dining settings for a range of social occasions.
For example, across family, friends, work and clubs, many customers will have several meals out over the Christmas period, so make sure there's a range of main courses on offer. Current menu trends such as slow cooked and barbecued dishes can be given a festive twist with sauces and stuffing, and are a useful way to make the most of better value cuts of meat.
Spicy flavours are also very popular, so try adding ginger, cayenne and chilli to alternatives to turkey such a duck or chicken, as well as to vegetarian dishes, to vary the menu choice. These Christmas-with-a-twist dishes also have a strong appeal to younger adults, who are the demographic that expects to go out for food and drink more often in the run-up to Christmas.
Predicting consumer confidence is always a challenge, and with operators facing the double whammy of higher costs, as well as trying to drum up trade from consumers who are watching their spending, offering a buffet choice can appeal to customers whose budgets don't stretch to the full Christmas menu.
Salmon and prawns are both seasonal buffet favourites, but as a boost to sustainability as well as offering greater menu choice, look at alternatives such as smoked mackerel and crabsticks.
Sharing and grazing dishes, which enable groups of customers to order a range of small, tapas-style plates or larger platters to share, is also a way to appeal to those with limited budgets. Offering snack and sharing choices alongside a seasonal sit-down menu is also an opportunity to persuade groups getting together for Christmas drinks to order food.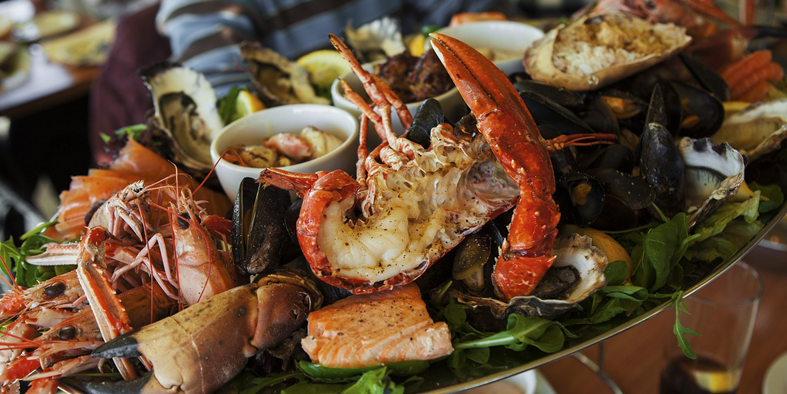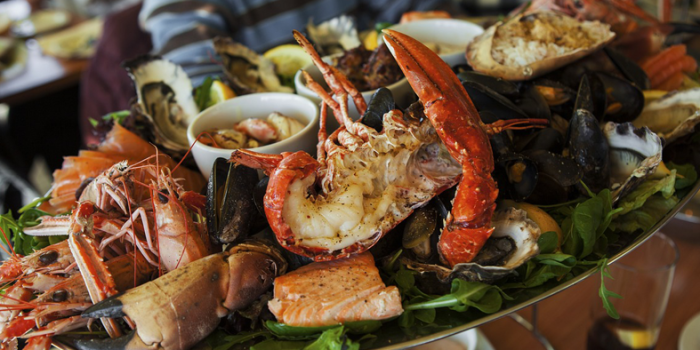 It's simple to add a seasonal touch to sharing favourites, such as serving cranberry sauce with baked camembert, or substituting pigs in blankets for standard sausages. Direct Seafoods, Campbell Brothers and Oliver Kay can supply a wide range of snacks, skewers, pies, pâtés and other seasonal buffet and sharing products.
Provenance is also important. Consumer interest in the source of the food on their plate is just as strong at Christmas as it is all year around. Along with the traditional local turkey, offer a cheeseboard made with local and regional cheeses, and source festive fare such as beef, ham and chipolatas with local credentials. Whether it's a genuinely local menu, or puts a wider spotlight on regional and British produce, adding provenance will appeal.
Finally, Christmas is a time when most customers can be persuaded to indulge in a dessert, research showing that chocolate, vanilla, strawberry and caramel are among the nations favourite flavours. For those buffet and snack menus, take a leaf out of the Bake-Off book to offer favourites such as brownies and macaroons in a range of flavours, and don't forget to add some Christmas 'spirits'. Dark spirits such as rum and whisky are long-established as additions to rich desserts, but lighter flavours like gin and prosecco also work well, especially when matched with fruit flavours such as strawberry and lemon.
Ultimately, always remember that going out to eat during Christmas is a treat, and this year more than ever, many customers will be looking for an escape from everyday worries. 2 in 5 fully expect to eat more indulgent food this year, more than 3 in 5 say they expect to drink a little more than usual, and 2 in 5 plan to enjoy a few more desserts. It would be a shame to disappoint them and miss out on trade!
Our team are on hand to support you and discuss your requirements in order to provide the best fresh ingredients for your dishes.
Follow us on social media for regular updates on Instagram, LinkedIn, Twitter and Facebook