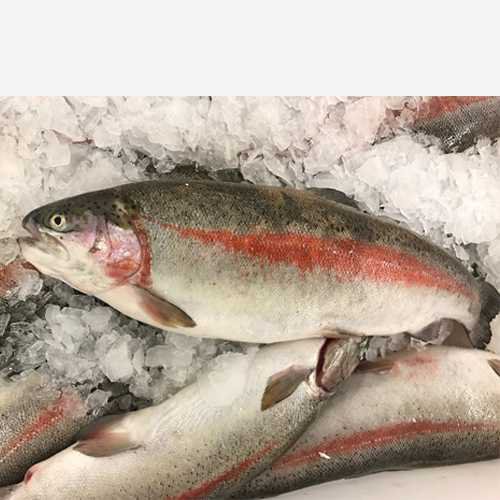 What are ChalkStream® trout?
Harvested by hand in Hampshire, ChalkStream® trout are a heritage, British fish that offer a delicious, healthy, and responsibly reared menu option.
The secret to these beautiful Trout is the famous chalk streams, Test and Itchen. Spring water that has been filtered through the chalk downland into underground aquifers, feeds these rivers. The water is rated class A by the Environment Agency, the highest achievable grade. The fast flow of the water provides the perfect environment to rear Trout, as not only does this give them an exceptionally clean taste, but the high flows mean they are very lean. Constant swimming replicates their natural habitat and gives them great muscle definition and low fat in the belly and flesh. The natural filtering process, by the chalk, helps to eliminate the muddy taste often associated with Rainbow trout.
All the trout are reared from 100% British fry (baby fish). During the two years it takes to reach the 2.5 to 3 kilo size, the Trout's every need is tended to by a team of experts who live on site. Their diligent attention to the welfare and husbandry ensures the highest quality. Chalk streams offer a unique environment, with water from the farm going through settling canals that act like giant gravity filters ensuring when it flows back into the river it is still class A rated; a process that is strictly monitored by the Environment Agency. Trout from ChalkStream® Foods is MCS 2 rated and certified by Freedom Food, Global Gap and the British Trout Association. Also awarded 'great taste producer' status, Chalk Stream work closely with Direct Seafoods, where you can order portions/supremes, fillets, and whole fish, at consistent value all year round.
Seasonality
Available all year round.
Alternatives
An alternative to ChalkStream® Trout would be Sea Trout or Salmon.
Trout Recipes & Videos
Gin Cured ChalkStream® Trout

Gin Cured ChalkStream® trout, Celeriac Slaw, Pickled Candy Beets, Fresh Herbs.

ChalkStream® Trout Fillets

ChalkStream® trout fillets, chorizo, peas, grilled little gem & shoots finished with garden pesto.

Gin Cured ChalkStream® Trout

A delicious seasonal autumn-winter recipe from chef, Martin, utilising delicious, locally sourced ChalkStream® Trout from Direct Seafoods with fresh produce from Oliver Kay.