Slavery is an international crime. However, it is estimated that 45.8 million people are victims of modern slavery around the world today, meaning more people live in slavery now, than ever before. It affects men, women and children and a staggering 80% of victims are used for commercial work – generating almost £120 billion of illegal profit, every year, to the private sector.
In the seafood industry, supply chains can be long and complex, with multiple layers of activity. Fishing boats are often at sea for years at a time, with little or no regulation. Producers subcontract work to invisible factories in order to drive down prices and cut costs. Complex, transnational crime networks infiltrate the value chain with trafficked migrants can be bought and sold, both on and off shore. And whilst the seafood industry has been focused on addressing the environmental dimensions of seafood sustainability for many years, these atrocities have gone by mostly unobserved. However in 2014 a six month investigation by The Guardian shone a spotlight on the seafood industry. They found "large numbers of men being bought and sold like animals and held against their will on fishing boats…" within the supply chains providing fish and seafood to leading UK brands and supermarkets.
Survivors reported "horrific conditions, including 20-hour shifts, regular beatings, torture and execution-style killings… some were regularly offered amphetamines to keep them going. Some had seen fellow slaves murdered in front of them."
When we heard about this, we were shocked. We instantly made a commitment to tackle these labour rights concerns head on; permanently and determinedly.
Our Vision
That all workers in our own business and in our global supply chains are protected, respected and are free from slavery, abuse and harm.
At Direct Seafoods we are against the use of modern slavery or human trafficking in the production of our products and are looking to find and eradicate these atrocious, illegal practices from our supply chains.
We want to achieve this goal through a holistic approach; where everyone in our company and in our supplier companies are committed to achieving this goal. We don't just want to follow the crowd, tick legal boxes or jump through legislative hoops – we want to be an industry leader in driving change from the very top of the supply chain, and we want to be in a position to help our customers and our suppliers to make the most ethical choice.
The UK Modern Slavery Act
The Modern Slavery Act 2015 is an Act of the Parliament of the United Kingdom. It is designed to tackle slavery in the UK and extends to England and Wales.
The act contains a Transparency in Supply Chain clause, which requires all businesses with a turnover above of £36 million and above to publish an annual modern slavery statement. The statement must confirm the steps taken to ensure that slavery and human trafficking are not taking place in the business (or in any supply chain). Or it must declare that no steps to confirm the existence of slavery or trafficking have been taken.
How Do We Achieve Our Vision?
In 2014 we joined the Ethical Trading Initiative (ETI), pledging our commitment to protect and respect worker's rights, both in our own business and in our global supply chains. Since joining the ETI two years ago, we have incorporated management systems into our business in order to better understand our supply chains and the potential ethical risks they present. We have begun to map and risk assess both the suppliers in the chain and the individual products that we buy. Where available we use independently verified certification schemes that have a focus on social welfare and where necessary we conduct our own site visits.
This work has allowed us to trace product right the way back to source and has deepened our understanding – and ability to deal with – the unique risks that the seafood industry face. As a result, we have seen positive change to our buying practices. We are continuing to shorten our supply chains wherever possible as this gives us greater control over the whole supply chain. By encouraging strong relationships with our suppliers, built on transparency and trust, we can help to improve working conditions throughout the supply chain.
The Ethical Trading Initiative
We were the first supplier of fresh and frozen, fish and seafood in the UK to join this highly regarded labour rights organisation, that comprises leading companies, trade unions and NGOs who work together to uphold workers' rights around the globe.
We have created our own ethical trading policy that aligns itself with the ETI's "Base Code"; 9 fundamental labour rights that are founded on the conventions of the International Labour Organisation (ILO).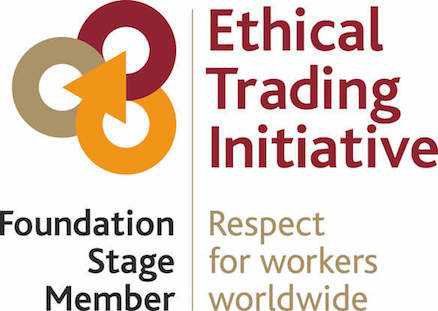 Eti'S Base Code
Employment is freely chosen
Freedom of association and the right to collective bargaining are respected
Working conditions are safe and hygienic
Child labour shall not be used
Living wages are paid
Working hours are not excessive
No discrimination is practised
Regular employment is provided
No harsh or inhumane treatment is allowed
Such a code addresses the fundamental labour issues impacting the seafood industry and we have promoted these to all our suppliers, ensuring they sign a commitment to adopt this as their minimum code of ethical conduct. We have also pledged to support their efforts to uphold this code.
How To Get Involved
If you are still asking yourself whether slavery could exist in your supply chain, the answer is sadly likely to be 'yes'.
Slavery is often hidden and hard to find, but each of us has a 'slavery footprint' (you can find yours at: http://slaveryfootprint.org/my-footprint). However, being aware of the issue, accepting the specific industry level risks, and committing to do something about it means you are on the road to eradication.
What you can do?
Ensure you only work with responsible suppliers such as Direct Seafoods, who are able to give you peace of mind that progress towards a more ethical supply chain is being made.
Look to work with suppliers who are members of the Ethical Trading Initiative and consider if your company could benefit from joining by visiting http://www.ethicaltrade.org/join-eti
Ask your suppliers for supply chain information and ensure they are transparent about the factories producing your goods.
If your company has a turnover greater than £36m and falls under the Modern Slavery Act, prepare and publish your statement.
Review your suppliers Modern Slavery Statement (if they are liable to produce one).